Cambridge guided bus driver dismissed after Trumpington derailment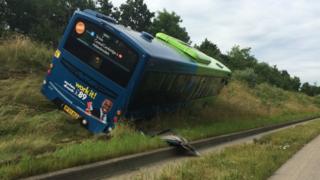 The driver of a bus that came off its guided tracks in Cambridge and mounted a grass verge caused the accident by "not following procedures", the BBC has learned.
There were no passengers on board the single decker when the incident took place near Trumpington on 7 July.
Bus operator Stagecoach said an investigation found no fault with either the track or the vehicle.
The driver, who was uninjured, "no longer works for the company", it said.
Stagecoach carried out its own investigation after the accident, using on-board CCTV and working with the police and "other relevant bodies" to establish the cause of this incident.
Andy Campbell, managing director of Stagecoach East, said: "An internal investigation found no evidence to suggest any fault with either the vehicle or the guided busway infrastructure.
"The driver didn't follow busway procedures as specified in the guideway handbook and, as a result, no longer works for the company," he said.
A spokeswoman confirmed the female driver was "dismissed".
The incident at Hauxton Road in Trumpington, was not far from a section where another bus derailed in February.
Stagecoach dismissed the driver who was found to be speeding when he crashed, injuring five passengers.
Mr Campbell said more than 3.5 million passengers used the guided busway every year and "it remains significantly safer than the A14 and other major roads".
"Nonetheless, we are in discussions with the county council to review operational procedures and see if any changes would be beneficial," he added.
The Cambridgeshire busway was opened in 2011 at a cost of £181m.