Wyton road crash: Lorry driver opened text before fatal crash, court hears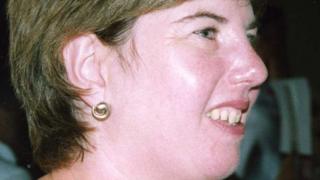 A lorry driver opened a text message seconds before he is accused of causing a crash in which an off duty police officer died, a court has heard.
Danny Warby, 28, of King's Lynn, denies causing the death of Det Con Sharon Garrett, 48, by dangerous driving.
The five-vehicle collision took place on the A141 near Wyton, Cambridgeshire, in June 2014, Peterborough Crown Court heard.
Mother-of-two Mrs Garrett joined Cambridgeshire Police in 1991.
Helen Guest, for the prosecution, said Mr Warby, of School Road, Runcton Holme, was driving the 13.6-tonne light goods vehicle along the A141 in Cambridgeshire when he opened a text message on his phone.
The court heard his vehicle crossed the white line in the centre of the road and clipped an oncoming lorry, showering two cars in debris, before crashing into a Renault Clio which was also in the oncoming line of traffic.
The Clio was driven by Mrs Garrett, who was on her way home from work. She was pronounced dead at the scene.
Ms Guest said Mr Warby had opened a text message on his phone one minute and six seconds before the crash.
She said: "If you're interacting with a mobile phone, your eyes aren't on the road and your two hands aren't on the steering wheel."
Ms Guest told the court conditions at the time of the crash were good and vehicle defects were not a factor.
She said Mr Warby's lorry was travelling at 53mph (85km/h) on a stretch of single carriageway restricted to 40mph (64km/h) for lorries at the time of the collision.
Ms Guest said Mr Warby had been diagnosed with obstructive sleep apnoea in late 2015 and his defence lawyers would argue he experienced a micro-sleep just before the crash.
The prosecution's case is that Mr Warby's reaction to apply the brakes after the first collision was "rapid", and not consistent with a person who had been asleep.
The trial continues.