Travellers on Bottisham Village College school field given notice to leave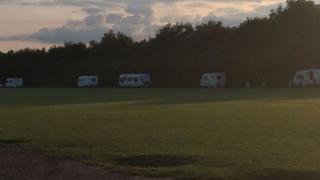 Travellers who set up on the site of a secondary school, forcing it to close, have been given notice to leave.
About 12 caravans pitched up at Bottisham Village College in Cambridgeshire on Thursday evening.
It had issued a statement on Friday to say a large group had moved on to parts of the college grounds, leaving the school "no choice" but to close.
Police said officers were on site and were "keen to negotiate the withdrawal of the encampment".
A Section 61 requirement was served on the travellers under the Criminal Justice and Public Order Act 1994, a spokesman added.
The order means that if the travellers do not move within a specified period of time, they could be prosecuted and have vehicles seized.
Sgt Phil Priestley said: "A notice has been served under Section 61, however, we genuinely hope that the situation can be resolved without a legal confrontation and without continued disturbance to the school events."
On Friday, the college arranged an alternative drop-off point for coaches returning students from school visits to Derbyshire, Shropshire and Normandy.
In a notice on its website, it said: "We would like to thank you for your ongoing support during the course of the last 24 hours.
"We are continuing to work closely with the police in order to resolve the situation as soon as possible.
"Please assume that school will be open as usual on Monday unless we contact you to the contrary."