'Britain's Pompeii' to be 'backfilled'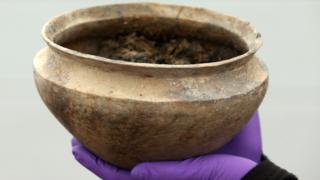 The site of a Bronze Age village dubbed "Britain's Pompeii" is poised to be backfilled and returned to quarry use.
Archaeologists say the 10-month dig at Must Farm in Whittlesey has transformed their knowledge of Bronze Age Britain.
Evidence of fine fabric-making, varied diets and vast trading networks were found during the dig.
In the next few days, archaeologists will begin clearing the site and returning it to the quarry's owners.
The many finds from Must Farm will be moved to the Flag Fen Centre on the outskirts of Peterborough.
'Pompeii of the Fens'
What the excavation has revealed:
The people living here made their own high quality textiles, like linen. Some of the woven linen fabrics are made with threads as thin as the diameter of a coarse human hair and are among the finest Bronze Age examples found in Europe
Other fabrics and fibres found include balls of thread, twining, bundles of plant fibres and loom weights which were used to weave threads together. Textiles were common in the Bronze Age, but it is very rare for them to survive today
Animal remains suggest they ate a diet of wild boar, red deer, calves, lambs and freshwater fish such as pike. The charred remains of porridge type foods, emmer wheat and barley grains have been found preserved in amazing detail, sometimes still inside the bowls they were served in
There were areas in each home for storing meat and a separate area for cooking
Even 3,000 years ago people seemed to have a lot of stuff. Each of the houses were fully equipped with pots of different sizes, wooden buckets and platters, metal tools, saddle querns (stone tools for grinding grains), weapons, textiles, loom weights and glass beads
Cambridge University archaeologist and outreach supervisor Selina Davenport said: "The site will be backfilled and returned to the quarry."
As to the artefacts being kept nearby, she said: "It's really important that it's staying as close as it can to where we found it and it's forming part of that Bronze Age story that Flag Fen already tells."
Analysis of wood used to build the settlement suggests it was only lived in for a short time before it was destroyed.
Despite this, archaeologists said the site gives an "exquisitely detailed" insight into everyday Bronze Age life.