Facebook backlash over anti-Polish cards after EU referendum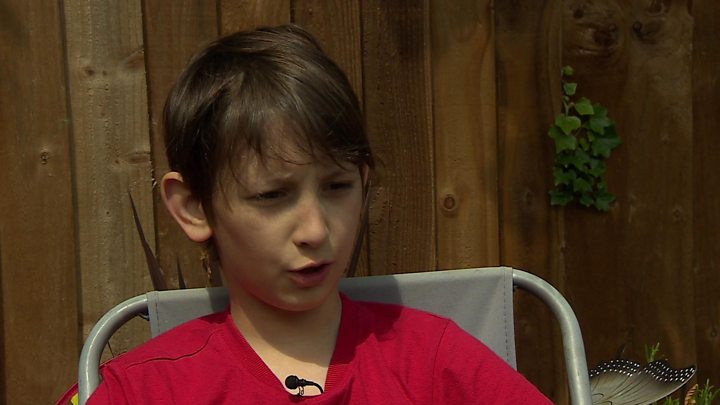 A social media backlash has erupted after cards were left outside schools and homes bearing the words "No more Polish Vermin".
Cambridgeshire Police is investigating the cards left in Huntingdon after the EU referendum.
Thomas Norman, of Huntingdon, responded on Facebook with a selfie and a sign saying "Polish people welcome here".
The UKIP leader on Cambridgeshire County Council said the anti-Polish cards were "beyond contempt".
Paul Bullen, who represents St Ives, called the cards a "disgrace".
Mr Norman's Facebook has post has been shared hundreds of time.
Malgorzata Laniecka said: "Seeing these reports about threats to immigrants, mostly Polish (although not only), makes me anxious. Thank you for all you are doing."
Sarah Silliance wrote: "I've shared because I agree with this, well said. There are some vile people in this world and this country.
"Some of our good friends and family are Polish, German, French, Turkish, and Indian."
'Racial hatred'
On the BBC Look East Facebook page most people have condemned the cards while a handful criticised the BBC for reporting the police investigation.
Carolyn Winchcombe said: "I live in Huntingdon and my daughter goes to the school in which they were found outside. We are horrified and saddened that this would happen in our town."
Celia Miller wrote: "I voted Leave, but have no time for this sort of prejudice.
"Let's make a decent and fair relationship with our European neighbours. If we don't treat them well, how can we expect them to treat us well?"
Kyle Sterry posted: "Disgusting behaviour and I don't really care where someone is from, everyone is equally welcome, it's a global world folks."
Det Supt Martin Brunning said: "The production and distribution of this and any other similar material is committing the crime of inciting racial hatred which carries a maximum sentence of seven years in prison.
"Any reports of hate crime in the county will be fully investigated and it is vitally important that anyone who has received these leaflets or suffered similar abuse reports it."