PCSO research 'supports bobbies on the beat argument'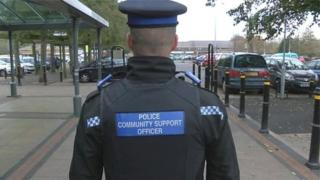 Putting two full-time police community support officers (PCSOs) on the beat would prevent the equivalent of 86 assaults a year, researchers say.
The University of Cambridge's Institute of Criminology conducted a year-long experiment involving extra patrols in crime-prone areas of Peterborough.
Working with Cambridgeshire Police, researchers found every £10 spent on foot patrols saved £56 in prison costs.
The findings strengthen the argument for "bobbies on the beat", they said.
The study's co-author, Prof Lawrence Sherman, said the experiment had "set the standard for cost-effectiveness in policing".
The comparison of offences before and after the experiment was measured using the "Cambridge crime harm index".
The tool measures harm caused to victims, based on how severe sentences are for various offences, rather than adding up overall crime figures.
'Hot spot' effect
Analysis using the tool suggested across all of the tested crime-prone areas, extra 21-minute patrols by two officers prevented crime amounting to 2,914 days - about eight years - of imprisonment.
The "hot spots" where extra patrols were introduced were in areas of Peterborough with a concentration of crimes like theft, burglary, violence and criminal damage.
The additional patrols amounted to an average increase of 56% in time officers spent on the beat each day.
Researchers found on average, per hot spot, victims reported 39% fewer crime incidents and 20% fewer 999 calls were made to police.
The Assistant Chief Constable of Cambridgeshire Police, Mark Hopkins, said he welcomed the outcomes of the experiment.
"We're keen to look at the findings in further detail and explore how they could help to influence our future policing plan," he said.