Edward Mallen suicide: Mental health care 'not fit for purpose' says father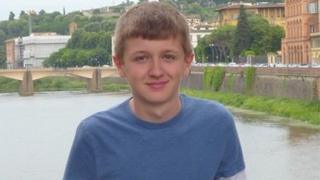 The father of a teenager who took his own life has said his death proves the mental health system in England is "not really fit for purpose".
Edward Mallen, 18, took his own life at Meldreth rail crossing near Cambridge on 9 February 2015.
His GP had said the boy should be seen by mental health professionals within 24 hours but an NHS health trust deemed him not to be at significant risk.
The trust has admitted "things... could have been done better".
Mr Mallen, who was expected to take up a place at Cambridge University, killed himself shortly after his 18th birthday.
More on this and other news from Cambridgeshire
Two weeks earlier he had spoken of suicidal thoughts to his GP, who contacted Cambridgeshire and Peterborough NHS Foundation Trust (CPFT) crisis intervention team, recommending Mr Mallen was seen within 24 hours.
But a triage mental health nurse who spoke to Edward Mallen on the phone said a five-day wait was appropriate as he did not think there was a significant risk.
The teenager had not told his family, who live in Meldreth, about the extent of his depression, and although he had given consent to medical professionals for his parents to be told about how he was feeling, they were not informed.
His father, Steve Mallen, has been campaigning for reforms to mental health services since his son's death.
The system was "not really fit for purpose", and was "underfunded and overwhelmed", he said.
Asked if he thought that had contributed to his son's death, he said: "To a degree, yes.
"Sometimes they call depression the curse of the strong, in other words the stronger, more resilient, more intelligent and more capable you are, the better you are able to conceal the difficulties you might be experiencing," Mr Mallen said.
'Honouring the promise'
"It's my understanding that our brilliant and lovely son, in protecting his family and protecting his friends, was essentially trying to cover up a disease from which he could never really get better without proper intervention which he obviously never received."
Speaking the day after a coroner recorded a verdict of suicide, Mr Mallen said: "I made my son a promise in church while I stood next to his coffin.
"I promised I would investigate his tragedy and I would seek reform on his behalf."
Through his charity the MindEd Trust, he is working "through the political system" with various government departments.
"I'm taking steps towards honouring the promise to my lad and also at the same time hoping to help many other thousands of families out there who are suffering similar difficulties."
The CPFT held an internal enquiry and commissioned an independent report into the death of Edward Mullen and a spokesman said the trust was "implementing the recommendations" of both.