Papworth Hospital nurse cautioned for drinking wine during shift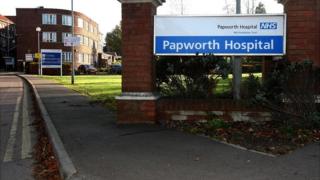 A nurse who drank alcohol before and during her shift has been cautioned after admitting breaching a "fundamental tenet" of her profession.
A conduct panel heard Louise Eyles drank two glasses of wine before a night shift at Papworth Hospital.
She then drank a further quarter bottle of wine during a work break in March 2015.
The Nursing and Midwifery Council (NMC) heard Miss Eyles accepted "the public would be horrified" at her behaviour.
Before imposing a five-year caution, the NMC panel heard how Miss Eyles was found asleep with "a bottle of wine next to the bed".
One of her colleagues, the panel heard, also spotted an empty wine bottle in her handbag.
But the panel decided it was a "single, isolated incident" which happened at a stressful time and that Miss Eyles had shown "significant remorse".