Disruption after ambulance hits scaffolding in Wisbech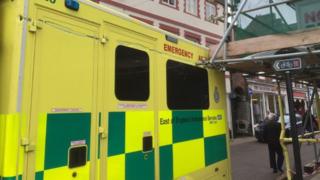 A road in a town had to be closed when an ambulance struck scaffolding while while trying to avoid a parked car.
The ambulance hit the scaffolding in Union Street in Wisbech, Cambridgeshire, on Saturday morning.
Union Street and Hill Street were shut before the illegally parked car, which had "caused the obstruction", was removed, Cambridgeshire Police said.
Health and safety officers were brought in to ensure that the scaffolding was safe and then the roads were reopened.