Cambridge swans to be protected during River Cam summer races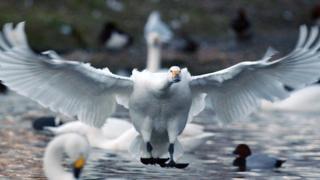 Swans will be given security guards to protect them during river races in Cambridge this summer.
Volunteers will "escort" the birds to "a safe area" of the River Cam to protect them from possible injuries caused by oars.
River managers, university and town boat clubs, Natural England and the Queen's Royal Swan Marker were all consulted over the plan.
The volunteers will begin work early next month.
Jed Ramsay, river manager from the Conservators of the River Cam, said: "Protecting swans on the River Cam is an essential part of our work.
More on this and other news from Cambridgeshire
"I think the plan to escort the swans out of harm's way during the races will keep the swans safe, whilst also allowing the races to go ahead without the fear of injuries to wildlife".
More swans
Earlier this month the conservators said they expected to see an increase in the city's swan population "thanks to the misplaced kindness of Cambridge residents and the widespread availability of bread".
They asked people to refrain from feeding them in order to help "bring about a sustainable swan population level".
Aggressive swans could also to be an issue, Mr Ramsay said, as swans attempted to protect their nests from boats.
A "particular" swan had already been noted and staff were "keeping an eye on it", he added.
Badly-behaved Cambridge swans hit the headlines a few years ago when one, who became known as "Mr Asbo", attacked several river users over a period of about three years.
He was eventually moved to another county for the safety of Cambridge's rowers.