Hinchingbrooke and Peterborough hospital trusts to merge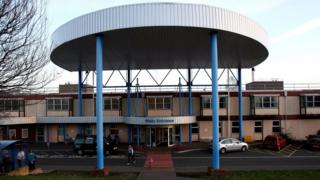 A hospital trust formerly run by a private company could merge with another NHS trust in a bid to save £9m.
Hinchingbrooke Hospital and Peterborough City Hospital aim to save the money in back office costs.
Hinchingbrooke was returned to NHS management in April 2015 after its private management company pulled out of its 10-year contract.
Jonathan Djanogly, MP for Huntingdon, said the new merger would not solve either trust's financial woes.
Private medical firm Circle took operational control of Hinchingbrooke Health Care NHS Trust in 2012 but gave up three years later, citing "unprecedented" increases in A&E attendances and funding cuts.
'Rigorous'
Hinchingbrooke Health Care Trust and Peterborough and Stamford Hospitals NHS Foundation Trust suggested four options to save money by integrating services.
It comes after the National Audit Office revealed in December the Peterborough trust's debt was £38.5m for 2014-15.
Hinchingbrooke, which became the first NHS hospital to be privately run four years ago, posted a deficit of £11.4m.
Proposals included looking at merging the back offices, joining the executive teams, or integrating into one organisation.
A joint statement from the trusts recommended a merger and added: "All four options have been tested in a rigorous appraisal process carried out by the CEOs, nhief nurses and medical directors of both trusts."
Mr Djanogly said: "My position remains that a full merger between the two hospital trusts is of great concern to local residents.
"I will also be submitting a copy of my petition to the Chairman of board, which to date has 6,000 signatures opposing a merger."
In April, more than 400 people marched through Huntingdon to protest against the possible merger of two hospitals.