In pictures: 100 years of RAF Wittering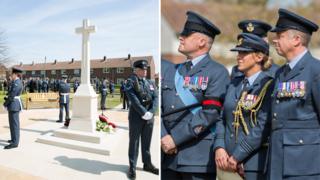 An airfield established during World War One as a Royal Flying Corps base for anti-Zeppelin fighters has marked 100 years of active service.
RAF Wittering in Cambridgeshire was initially named after the nearby town of Stamford.
Spitfires, Hurricanes, the V-Bomber Force and Harriers have been based at the airfield. It is now home to the RAF's A4 Force and trainee pilots.
A centennial memorial has been unveiled at All Saints' Church in Wittering.