Family of Whittlesey girl with detached brain wins Lottery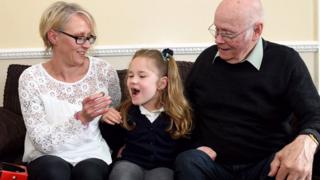 The lottery-winning family of a girl who had nearly half her brain removed has said they will use the money to thank their community for its support.
Lorraine Daniels, 41, and her father Derek Daniels, 77, won £729,026 in last Wednesday's draw.
They want to pay back the "amazing" community who raised funds to buy a specialist bed for Lorraine's daughter.
The family, from Whittlesey in Cambridgeshire, also plan to go on holiday.
Six-year-old Lotus was put in an induced coma three years ago, as she was having up to 300 epileptic fits a day, and later had much of the right side of her brain removed during a nine-and-a-half-hour operation.
A small portion of the right side of Lotus' brain was detached but was there to prevent sunken skull, Ms Daniels said.
More on this story and others from Cambridgeshire
Her mother, who is Lotus's full-time carer, said she had "baffled all the doctors" who predicted "a very limited quality of life" by learning to walk again and communicating through sign language.
Fundraising events were held to buy a special bed for Lotus, who currently sleeps in her mother's, so they can manage her seizures.
"Who would have thought that when we placed that order, before the bed had even arrived, I would have won the Lottery and can now pay back the community so the money can go to another worthy cause," Ms Daniels said.
'Stunned and crazy'
They are making a substantial donation to their local rotary club, which will distribute the money.
The father and daughter syndicate have played every Lottery draw since Lotus was born, using a combination of her birth date, baby weight, room she was born in and the day she was christened.
Talking about the moment they found out, Mr Daniels said: "We were sitting there somewhere between stunned and crazy. We kept thinking about all the things that were now possible and how all our heartache and worry for Lotus' future was over.
"I don't know how many cups of tea and coffee we went through but it was a very memorable moment for a dad to share with his daughter and believe me, we've shared many memorable moments."
They shared the £2,187,078 jackpot with five other winners, who all had the numbers 1, 7, 10, 9, 12 and 31.