National Trust completes Wicken Fen 'bridge for nature' for ponies and cattle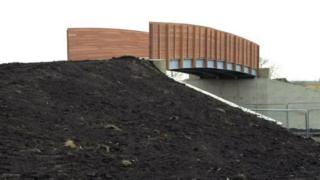 Ponies and cattle will soon be able to roam freely between grazing pastures at a Cambridgeshire nature reserve after a special bridge was completed.
The "bridge for nature" links two areas at Wicken Fen, previously separated by a bridle path and vehicle track.
The £200,000 bridge was paid for by supporters of the National Trust and a waste management company grant.
The area is currently being planted and the reserve's wildlife will be able to use their new bridge in the autumn.
The bridge connects 740 acres (300 hectares) of land to an ancient part of the National Trust's wetland reserve in the fens.
Currently, the two areas are separated by a road that the grazing animals cannot cross.
The muddy banks surrounding the bridge have been seeded but when the animals are allowed access it is hoped they will help to improve the area further.