Crash pilot Taj Sareen's daughter receives special gift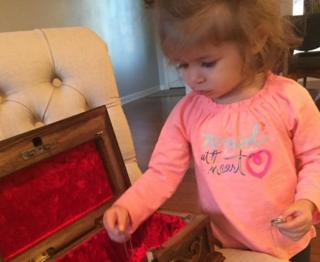 The daughter of a US pilot who died in a plane crash in Cambridgeshire has received a gift in memory of her father.
Major Taj Sareen was killed when his jet came down at Temple Farm in Redmere in October.
The 34-year-old, from California, was flying home from RAF Lakenheath in Suffolk when the accident happened.
A box he had bought for his daughter was destroyed in the crash, but kind-hearted shop owners have replaced it.
Major Sareen purchased the puzzle box from a Turkish bazaar shop on the base during his short stopover there and had it engraved with a message for his daughter Jade.
When shop owners Romeo Ovelek and Umut Nafile heard about the crash, they asked their family in Turkey to make a new one.
They filled it with Major Sareen's dog tags, a locket containing his photograph and the added engraving: "Daddy loves you always."
Major Allen Szczepek, from the US Marine Corps, said: "Major Sareen was a fantastic pilot and a loving father who spoke with his daughter daily on deployment.
"His remarkable personality left an impression on the Turkish puzzle box maker, enough for them to do this grand gesture thanking Sareen's family for his service and sacrifice."
Major Sareen had just completed a six-month tour in Iraq and Syria when he crashed on 21 October, narrowly missing a farmer and his son.
His plane is reported to have encountered issues with refuelling before taking off, but the cause of the crash will not be known until an investigation by the Marine Corps finishes.