Stuck Cambridgeshire guided busway driver 'dazzled' by sun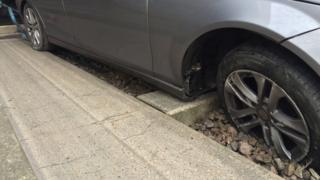 The driver of a car which ended up stranded on a guided busway has blamed being dazzled by the sun.
The Mercedes got stuck on a stretch of concrete track at Histon, near Cambridge, at about 09:00 GMT on Wednesday.
The man, from Birmingham, who gave his name as Bal, said the sun was in his face and he "couldn't see the outline of the track".
A county council spokesman said there were "numerous signs" to warn drivers.
The driver said he was unaware there was a guided busway system in Cambridgeshire and had been on his way to work in Cambridge when he took a wrong turn at a busway junction on to the track.
He said he made it for several hundred metres along the council-owned busway before he slowed down and his car came off the track.
"The sun was shining right in your face, I couldn't see the outline of the track - it looked like it appeared to be a road but it wasn't," Bal told BBC Radio Cambridgeshire.
"Somebody asked me to turn back so I tried to slow down. The road was shining... and you can't see exactly the surface.
"It was early in the morning so the sun was quite low down."
A recovery vehicle removed the car, which was said by its driver to have been a "bit damaged", about two hours later.
A council spokesman said the busway is fitted with car traps which can puncture tyres to stop vehicles mistakenly travelling too far.
"There are numerous signs warning motorists of the busway. Officers will be inspecting the track to ensure services can be resumed as soon as safely possible."
The busway opened in 2011 and connects Cambridge with Huntingdon and St Ives.
Diversions were put in place for Cambridge-bound buses.