Cambridgeshire guided busway crash driver sacked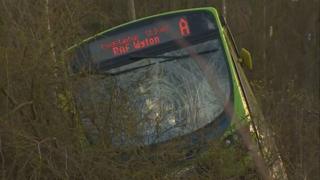 The driver of a bus that crashed off the Cambridgeshire guided busway, injuring six people, has been sacked.
The vehicle left the busway on 22 February when it was travelling between Addenbrooke's Hospital and Trumpington.
Andy Campbell, managing director of Stagecoach East, said there were no defects with the bus or the track that would have caused the crash.
The Cambridge News first reported the dismissal of the driver who has not been named.
Police said five people had minor injuries and one person suffered serious but not life-threatening injuries when the bus veered up a bank near Foster Road.
Latest updates on this story and others from Cambridgeshire.
The Health and Safety Executive is currently investigating what happened.
The Cambridgeshire guided busway opened in 2011 and connects Cambridge with Huntingdon and St Ives.
The busway carries thousands of passengers in and out of Cambridge every day, with buses running on specially-designed concrete tracks.
Asked whether he still had confidence in the guided busway and its safety, Mr Campbell told BBC Radio Cambridgeshire it was "one of the safest forms of public transport that there is".
"Thousands of people are using it on a daily basis and unfortunately when you have an incident it does put the spotlight on," he said.
"But this is clearly nothing to do with the track, with the vehicles or the procedures that are laid down.
"It's running as normal, there's a slight speed limit on the section where the incident was but only for a short section of route."