Cambridge University flat fire caused by incense sticks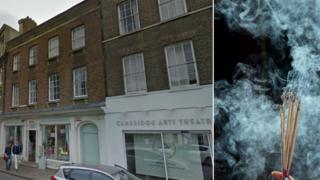 Cambridge University students had to be evacuated from their flats after one of them set a room on fire while burning incense sticks.
The fire started on the second floor of the Kings College Spalding Building, next to the Arts Theatre on Peas Hill, at about 19:25 GMT.
Incense sticks had been left burning unattended and fell on to a bed, the fire service said.
No-one was hurt but the room was extensively damaged.
Smoke was seen coming from the flat in the city centre hostel, which is home to first year students studying at King's College.
More on this and other stories from Cambridgeshire
Two fire crews brought the blaze under control by about 20:00 GMT.
Smoking allowed
"This fire started when incense sticks were left burning unattended and then fell on to flammable materials in the sleeping area," station commander Stuart Smith said.
"In most student halls of residence it is against policy to light candles and incense and it is important those living in this type of accommodation follow these rules."
It is not known how many students were in the building at the time, but the fire service said everyone was safely evacuated after an automatic smoke alarm activated.
Many of those living there are music students or choral or organ scholars according to the college accommodation website.
Although smoking is permitted in the rooms, candles are not.