Cambridge city's landmark buildings lit up in multi-colour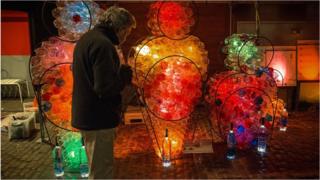 A festival of light to link technology with art is under way in the university city of Cambridge.
E-Luminate was founded three years ago to bring modern computer generated lighting to highlight buildings, landmarks and monuments in the city.
The theme of this year's festival is Connecting Lights.
"Artists have addressed the complex nature of Cambridge's academic, commercial, medical and technological worlds," co-founder Hugh Parnell said.
"The festival offers a unique opportunity for residents and visitors to discover, or re-discover, the richness and diversity of Cambridge's iconic buildings and public spaces through a range of light art installations, family activities, talks and concerts."