River Cam bank collapses at Queen's College in Cambridge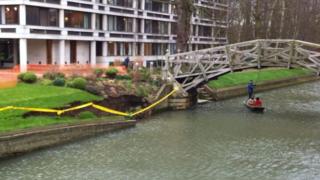 Punt operators have been warned to take care after part of a river bank collapsed in Cambridge.
The small River Cam landslip happened on Tuesday night at Queens' College, when a retaining wall gave way.
Cam Conservators river manager Jed Ramsey has written to punt operators to alert them to the incident.
"It does not affect navigation at this point - but please take care around the area," he wrote. College contractors will be brought in to fix the wall.
Staff at the college wrote on Twitter: "The River Cam attempting to create a diversion".
Read more on this and other stories from Cambridgeshire
Mr Ramsey said the retaining wall was "quite old" and the college had not been able to inspect the section beneath the water "for some time".
Staff at Queens' College contacted the conservators for advice as they were not sure if the landslide "could cause a navigational hazard".
The river bank collapsed close to the college's famous Mathematical Bridge, originally built in 1749 and rebuilt to the same design in 1866 and 1905.
Mr Ramsey said the landslip had not affected the bridge.
The area has now been fenced off until it can be fixed.