Car with completely shattered windscreen stopped in Peterborough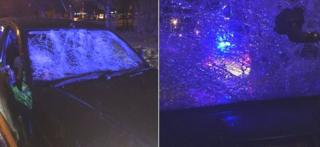 A car with a completely shattered windscreen was pulled over after it was spotted moving "erratically" on a dual carriageway.
The driver's view of the road was almost completely obscured, police said.
An ambulance driver spotted the vehicle on the A1 at Barnack, Cambridgeshire, at about 21:45 GMT on Tuesday. It was found later in Peterborough.
The man was reported for "a number of driving offences" police later said.
"Can't believe this driver was driving on the A1, Peterborough... Dangerous," traffic police tweeted.
Read more on this and other stories from Cambridgeshire
He told officers from Bedfordshire, Cambridgeshire and Hertfordshire road policing unit the car was being driven "erratically" and had hit the central reservation "a few times".
They located the car in Boongate, in the centre of Peterborough.
The driver of the Mitsubishi L200 Animal, a man in his 30s, was reported for offences including "dangerous driving by way of the condition of the vehicle (windscreen)", a police spokeswoman said.