Hundreds at illegal Huntingdon car cruising car park event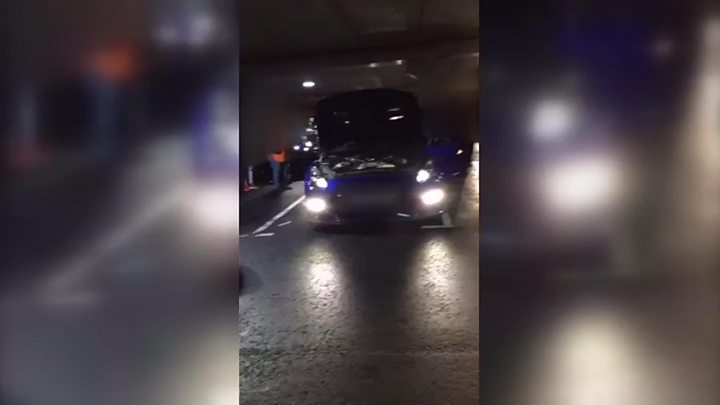 Up to 300 cars descended on a Cambridgeshire multi-storey car park for an illegal car cruising event.
Police, who said they warned two drivers for "inconsiderate" driving, have been accused of failing to stop the meeting at the St Germain car park.
Resident Jon Pearce, whose Huntindon home backs onto the building, said cars "were just being driven round and round all four storeys of the car park".
He said: "The noise was terrible and the police did nothing."
Cambridgeshire Police responded by saying two drivers were given warnings for "inconsiderate" driving.
Read more on this and other stories from Cambridgeshire
A Cambridgeshire Police spokesman said officers were called at about 19:30 GMT to "reports of cars driving antisocially and dangerously" and the event was cleared about three hours later.
'Revving engines'
The drivers of two cars were issued with warnings for "careless and inconsiderate driving" that was "likely to cause alarm, distress or annoyance to members of the public".
A spokeswoman from Huntingdonshire District Council, which runs the car park, said the ground floor was always open but the battery on the barrier had gone flat, allowing access to the other three floors.
Mr Pearce said: "There was very loud music and revving engines."
"People were selling lots of stuff too, like car accessories and cleaning products," he added.
He said it was not the first time an illegal car cruising event had taken place at the car park, but usually it involved about 20 to 30 cars and only took place on the ground floor.