Hot air balloon lands at Bassingbourn Primary School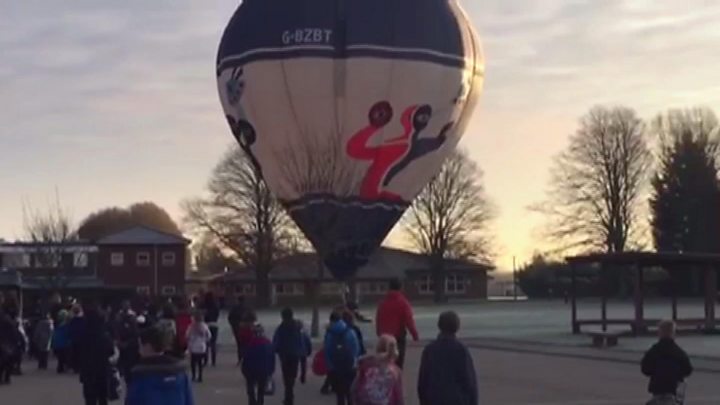 A man and his hot air balloon made an "unscheduled landing" at a Cambridgeshire primary school.
The balloon landed in Bassingbourn Primary School's playground at about 08:40 GMT "just as the bell was ringing", head teacher Sue Brown said.
"I don't think he meant to land here but it made the children's day," she said of the man, whose friends eventually came to his rescue.
"It's just a typical day in the life of a primary school", Mrs Brown added.
Read more on this and other stories from Cambridgeshire
Staff and children watched as the single-person hopper balloon - a hot air balloon that does not have a basket - honed in on the playground, coming to a halt on the grass.
"The playground was packed with children and parents so we moved them all away once we realised he really was heading towards us," Mrs Brown said.
'Can we help you?'
"It really was quite exciting.
"I just walked over to him and said, 'hello, can we help you?' but he said he'd already radioed his friends, who turned up and after about an hour he and the balloon were gone."
It is not known why the man chose to land his balloon in the playground. Mrs Brown said she did not have time to ask as classes were beginning.
"We think he might have a child at the nearby village college and as parking around here is so bad, we joked that perhaps he thought this was a good alternative."