River Cam punt touts face ban from Cambridge city centre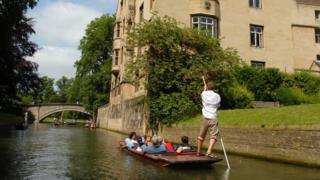 Punt trip touts who hassle residents could be banned from Cambridge city centre.
Council leader Lewis Herbert wants to introduce a Public Space Protection Order (PSPO) to make touting for customers illegal in areas away from the River Cam, including King's Parade.
Touts at junctions in the city centre hassle residents and visitors, he said.
On Monday evening, councillors agreed to hold a consultation over the issue, starting on 16 February.
Punt operators said they would be put out of business and jobs would be lost.
Read more on this and other stories from Cambridgeshire
Mr Herbert said: "We've tried other means. We've tried a by-law, we've tried discussions.
"The PSPO effectively gives the council the right, along with the police's support, to say there should be no touting.
"We've defined quite a large area because this is a hassle right across the centre of the city, and if we did a small area it would just move.
"I think it's just got out of control. I'm not proud of my city when I see people being hassled as they go about their business."
Business 'destroyed'
One unlicensed punt operator said: "If I couldn't use touts, my business would be completely destroyed.
"I do understand there's an issue with touts - there are too many touts on King's Parade. It should be regulated."
A proposal to put up signs to ban touting was also criticised.
Resident Jean Glasberg told Monday's meeting: "Spending thousands on ugly signage isn't a minor issue, it'll have a significant environmental impact."
Punt operator Milan Kovacevic said his business would have to shut down if this order went ahead and the plan was a "massive abuse of council power".