Drunk man on Cambridge shops rooftops arrested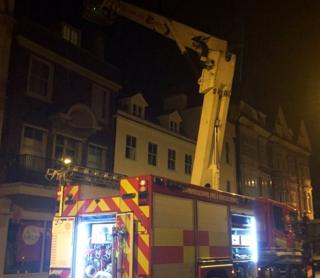 A drunk man seen wandering around on rooftops in Cambridge city centre has been arrested after an operation involving all three emergency services and the police helicopter.
The man was seen on the roofs of shops in Market Square at about 00:30 GMT.
Cambridgeshire Police were called after people expressed concerns for the man. They confirmed he had been drinking.
The 21-year-old eventually made his own way down and was arrested on suspicion of burglary.
Read more on this and other stories from Cambridgeshire