Caution for St Neots boy who left motorcyclist with life-changing injuries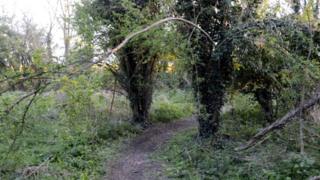 A boy has been cautioned after causing "life-changing injuries" to a teenage motorcyclist by tying a rope between two trees in a Cambridgeshire wood.
Connor Cahalane-Toon, 17, was riding his motorcycle near St Neots on 24 April when he hit the rope.
He spent seven weeks in hospital being treated for serious injuries to his neck and wind-pipe.
A 14-year-old boy from the St Neots area was cautioned for causing grievous bodily harm without intent.
Connor was put into an induced coma for two-and-a-half weeks following the incident.
'Reckless action'
Cambridgeshire Police said he was "still recovering from what is a life-changing injury to his vocal cords".
His family and the Crown Prosecution Service (CPS) agreed not to take the offender to court and instead issued a youth caution.
The boy, who cannot be named for legal reasons, must also attend sessions offered by the Youth Offending Service.
A CPS spokesman said the boy had admitted responsibility and the decision to settle out of court was taken "after full consideration of the evidence available, the remorse shown, and discussions with the family of the victim and with Cambridgeshire Police."
He described the incident as "a reckless action that the youth, who was of previous good character, did not foresee would end in the victim receiving a serious injury."
Connor's mother Nicola Toon said had it not been for the "amazing and skilled care" her son received from paramedics and specialist staff at Addenbrooke's Hospital in Cambridge, "he would not be here with us today".
"It is our hope that the youth will comprehend what a life-changing effect he has had on an individual's life by committing such a mindless act."