Cambridgeshire police Skype trial takes three calls in first two months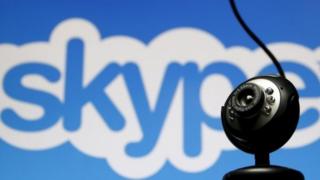 A police force criticised for trialling Skype to speak to victims of crime used the technology three times in the first two months, it has emerged.
Cambridgeshire Police started the pilot in Peterborough in November with the aim of freeing up officers' time and to give flexibility for victims.
The Police Federation raised concerns that some people would be unable to use or afford the technology.
The force said there had been "an interest" from the public.
In the three incidents in which the online audio-visual call system was used, one woman received advice about installing CCTV at her property and the law.
A teenage girl and her father were given advice about an online bullying incident in another Skype call.
'A low number'
In a third, officers spoke to a woman who complained about a police response to an incident. Her complaint was resolved over Skype.
A police spokeswoman said: "Cambridgeshire Constabulary receives hundreds of calls on a daily basis. Each call is looked at on an individual basis and it would not be appropriate to action all of them with a Skype or even telephone call.
"We have made three Skype calls since the trial started in November, which although sounds a low number, demonstrates that there is an interest from members of the public to use it as an alternative method of communication."
The Police Federation initially raised concerns for those people unable to use or afford the technology required for the online audio-visual call system.
Cambridgeshire Police Federation Chairman Shaun Ryan said: "I see it as an open line of communication, it's another way of contacting the police.
"Ultimately if it does have the effect of saving costs and we don't have to have a reduction in officers then I haven't got a problem with that."