Rikki Neave murder: Police inquiry seeks 'drugs professionals'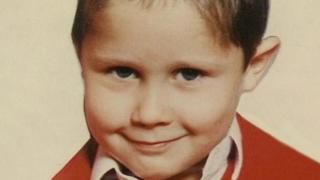 Detectives investigating the murder of a six-year-old boy in 1994 say they are keen to hear from drug treatment workers who were visiting his estate.
Cambridgeshire Police have re-opened the inquiry into the death of Rikki Neave who was found in Peterborough.
Det Ch Insp Richard Wall said: "We know that drug use was common place.
"We are keen to hear from any professionals who may have been helping people and [were] given information about the murder."
He said they were "closing in on those responsible".
Rikki had been strangled and his naked body was found in a wooded area on the Welland Estate on Tuesday, 29 November about five minutes's walk from his home on Redmile Walk.
'Promising' results
He was last seen leaving for school at about 08:30 GMT the day before.
His grey trousers, white shirt, black shoes and blue coat were found in a wheelie bin on Willoughby Court on Wednesday, 30 November, 1994 - close to where his body was found.
His mother, Ruth Neave, was found not guilty of killing him in a trial in 1996, and there have been no further arrests.
The case was featured on the BBC's Crimewatch earlier this month, when Rikki's sister made an appeal.
Mr Wall said: "We have had an overwhelming response from the public and have built a strong timeline of Rikki's last movements.
"We are also working with a number of experts and re-examining all of the original forensic materials using the latest scientific advances and technology, the results of which are very promising."
This weekend, the police said they would be out on the estate on the 21st anniversary of the murder to talk to people and distribute appeal material.