'Rare' Judas medieval panel painting 'was recycled in Reformation'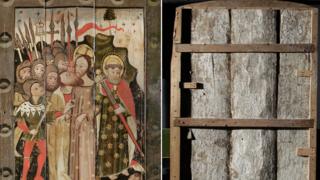 A newly-restored "rare" medieval panel painting survived the Reformation because it was "recycled" in the 16th Century, conservators believe.
The Kiss of Judas was painted in about 1460 in "vibrant medieval colours".
It was sold to the Fitzwilliam Museum in Cambridge in 2012 by a Northamptonshire church using the funds for its restoration.
"Faint traces" of 16th Century writing were discovered on its back during conservation work.
Thousands of church paintings were destroyed during the Reformation, making this "one of the rarest artworks of its type".
The panel measures 5ft 6in by 2ft 4in (1.73m by 74cm) and the discovery of writing on the back suggests the "offending" Catholic image was turned around and its back converted into a painted board.
The words are thought to be the 10 Commandments, "typical of a Protestant church furnishing" in the later Tudor period.
Conservator Dr Lucy Wrapson, from the Hamilton Kerr Institute in Cambridge, said it may have been reused for reasons of "simple economy" or "deliberately saved".
Layers of surface dirt, bat faeces and varnish were removed and the wood protected from insect damage.
Conditions of sale
Little is known about the panel's early life - it was first recorded at St Mary the Virgin Church in Grafton Regis, early last century.
Churchwarden Jean Glanville said the sale was approved by the Diocese of Peterborough's consistory court, which decides whether churches can dispose of property.
The church and the museum declined to say how much the painting cost.
A condition of sale was that proceeds must be used towards restoration projects and match-funding raised.
So far, nine windows have been repaired, costing £25,000, and a £40,000 restoration of the tower and porch is planned.
The church will also commission a £7,000 replica of The Kiss of Judas as a further condition of the sale.