Cambridgeshire Police Sgt Spencer Evans cleared on sex assault charge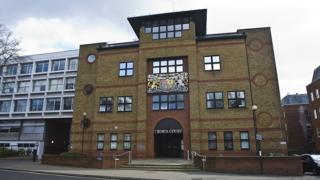 A Cambridgeshire Police officer has been cleared of sexual assault, but a jury has failed to reach verdicts on two remaining charges.
Sgt Spencer Evans, 40, from Harston, had been on trial following allegations made by three women.
The jury at St Albans Crown Court found him not guilty of sexual assault and two charges of harassment.
Prosecutors will now decide whether to seek a retrial on one charge of harassment and one of assault.
Sgt Evans was granted bail for seven days while a decision is made.
The officer, who remains suspended from his job at Bridge Street Police Station in Peterborough, was accused of carrying out the offences in Huntingdon "or elsewhere" between September 2007 and September 2009.