Posh fans plan £75,000 Chris Turner statue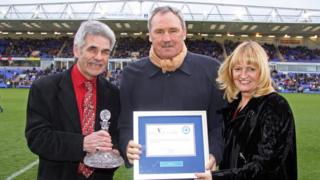 Peterborough United fans are hoping to raise enough money to memorialise their former manager with a statue.
Chris Turner died in April aged 64, after being diagnosed with a form of dementia in 2006.
He spent nine years as a player with Posh before winning back-to-back promotions as manager in the early 1990s.
Sculptor Sean Hedges-Quinn has been commissioned and fans have so far raised £15,000 of the £75,000 cost.
One fan, Adi Moles who is involved in the fundraising campaign, said: "We want to have a large plinth, all lit up and covered in granite and very tall, because Chris Turner was a very tall man, standing at London Road.
"He'll have his arms up and we're transfixing the face he had when we won at Wembley, absolutely laughing his head off and having the time of his life."
Phil Adlam, Peterborough United press officer, said the club was "very much behind" the plan and it was a "perfect, fitting tribute" to Turner.
They will donate the 5p plastic bag charge from all sales at their shop towards the costs of the statue.
The fans are launching the fundraising campaign at two events later and on Friday.
Mr Moles does not yet have a date for the statue's provisional completion and unveiling saying he expected fundraising to be "a marathon not a sprint".