'Hand grenade' found inside tree in Ely garden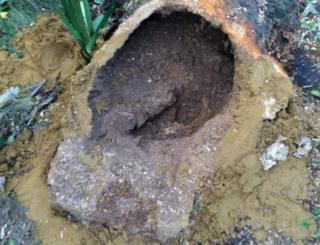 A suspected hand grenade has been found inside a tree in the garden of a home in Cambridgeshire.
A cordon was put in place by police after the discovery of the explosive device in the hollow of a rotten apple tree, which was being removed by workmen at Back Hill, Ely.
After assessing the situation, a team from the Royal Logistic Corps decided to remove the device.
They carried out a controlled explosion at the edge of Ely.
No-one has yet been available from the Army or the police to say how old the suspected explosive device was.
The grenade was first reported to the police on Tuesday at about 15:20 BST.