In pictures: Holme Fen Spitfire unearthed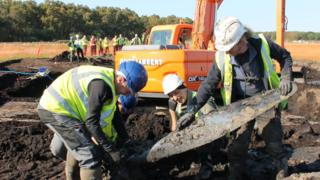 Experts have begun examining and cataloguing parts of a Spitfire excavated from a field in Cambridgeshire.
The plane crashed in Holme Fen during a 300mph (483km/h) training mission in November 1940, killing 20-year-old Pilot Officer Harold Penketh.
Experts from Oxford Archaeology East and Cranfield University have spent five days recovering the plane.
Its parts will be preserved and put on public display.
Here is the story of the excavation, told in photographs: