Cambridge magnet thief caught after complaining about his CCTV image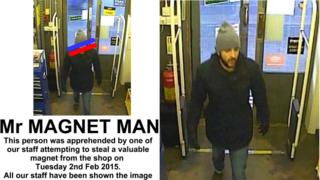 A hapless thief was caught after going to a police station to complain his photo had been put on a warning poster.
Nicholas Allegretto was filmed on CCTV after stealing a £23 industrial magnet from Mackay's hardware store in Cambridge in February.
The shop put his photo on a poster, as reported in the Cambridge News.
He told police his reputation had been damaged and he lost his job, however he was sent to court and found guilty of theft. He was fined £400 on Wednesday.
Allegretto, of Ditton Field, Cambridge, had been spotted pocketing the magnet and was confronted outside the East Road store by staff.
'Rocking with laughter'
After denying it, he handed over the item and "legged it, Olympic-style," owner Neil Mackay told the BBC.
His image was posted in the shop's "rogues' gallery" of thieves, with his face partially disguised.
Mr Mackay put the posters up to warn thieves he and his staff knew what they looked like.
The photo of Allegretto was partially obscured by thick lines meaning he was not easily identifiable, Mr Mackay said.
However, after the image was circulated on social media and in a local paper, Allegretto complained to police saying family members had been teased and he had lost his job.
"I couldn't believe it when I heard he had rocked up at the police station and identified himself. You've got to laugh really," Mr Mackay said.
He described roofer Allegretto as "not the sharpest tool in the box".
Mr Mackay attended court on Wednesday, although Allegretto did not.
"The whole court was rocking with laughter when the prosecutor described how he had effectively identified himself," he said.
"It was surreal in the extreme."
Allegretto denied theft at an earlier magistrates' court hearing but was found guilty and fined.