Cambridge River Cam punt rules revised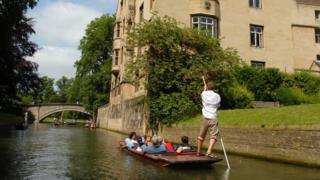 Punt operators in Cambridge will have to give safety demonstrations to passengers before each trip under new rules being introduced.
The Conservators of the River Cam, who manage the waterway, have revised the punting code of conduct.
Commercial and chauffeur punts must carry lanterns at night, refrain from playing loud music and rescue anyone at risk of drowning if it is safe.
As reported in the Cambridge News punts must also display safety signs.
The code of conduct was first introduced in 2004 and has been revised several times since then.
The latest rules are the most stringent and are designed to address safety concerns.
All operators are required to have a safety officer and to document all accidents or incidents involving their vessels.
Chauffeurs, described by the conservators as "the professional boat masters on the river", are required to give their passengers a safety demonstration and must themselves be fully trained by their operating company.
The have a "duty to assist to the best of their ability" if they see anyone at risk of drowning, the code says.
The conservators have also drawn up strict rules for the safety signs that all punts must carry, including the size, colour and font to be used.
George Sugden, a director of Traditional Cambridge Tours Ltd, told the BBC his company welcomed "any measure to attempt to improve safety".
However, he said "about 90% of incidents and accidents involve self-drive punts" rather than chauffeur vessels.
"There is little effort to regulate or curtail those," he added.
Punt operators are required to sign up to the code of practice as a condition of registering their vessels with the river managers.