Sunbathing seals make long trip inland from the Wash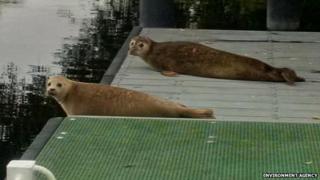 Seals have been spotted basking in the sunshine on the banks of rivers in East Anglia, about 40 miles from the sea.
Environment Agency officers photographed two of them taking in the warmth at a lock on the River Great Ouse in St Ives, Cambridgeshire.
Two more have been spotted further upstream on the Bedford Ouse.
The agency's James Hooker said they were likely to have come in from the Wash. Many were "curious and follow boats through locks", he said.
Fisheries officer Mr Hooker said seals do occasionally come into fresh water, although it is not usual for them to breed in inland waterways.
It was often the "young and curious" that managed to swim so far from the sea, he said.
In May another sunbathing seal was photographed, having made the 40 mile trip to the St Ives area.