Addenbrooke's Hospital flood prompts 'major incident'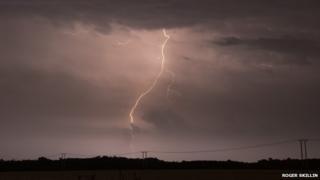 A "major incident" has been declared after flooding at a Cambridge hospital led to all planned surgery being put on hold until Tuesday.
Part of Addenbrooke's Hospital basement, where sterilisation equipment is kept, was flooded when torrential rain hit parts of the county overnight.
A spokesman said the hospital would "continue to provide urgent medical care" but "at the present moment we are closed to major trauma cases".
He said patients were being informed.
"As our services are not running normally, we are now in major incident mode.
"We are asking patients considering coming to A&E to seek alternative care wherever possible," the spokesman added.
Many other parts of the city and county were also affected by the overnight storm.
'Vast quantities'
Cambridgeshire Fire and Rescue Service received 54 emergency calls related to flooding in the Cambridge area between 00:00 and 05:00 BST.
A number of residents were helped in flooded properties in Norfolk Terrace, Mill Road, Armitage Way, Trumpington Road and Barnwell Road in the city, a spokesman said.
Businesses on Barnwell Road in Cambridge were hit by "vast quantities of water", A fire service spokesman said.
One of these was a pet store, but no animals were affected.
The basement of the Scott Polar Research Institute on Lensfield Road was also flooded.
Polar research archive material is stored in the basement, however a staff member said it was not believed anything had been damaged as documents were stored "high up on plinths".
About £20,000 worth of damage was caused when part of the ceiling in offices at a Volkswagen garage on Milton Road collapsed. No vehicles were damaged, however the building was left without power.
A number of other roads in the city have also been severely affected and the A142 underpass at Ely railway station is closed due to flooding.