Peterborough suitcase torso: Post-mortem inconclusive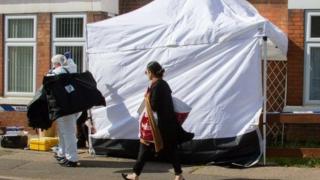 A post-mortem examination on the torso of a woman found inside a suitcase has failed to establish how she died.
The body was found with no arms, legs or head at a house in Mayor's Walk, Peterborough, on Friday.
A man, understood to be Vytautas Jokubauskas, 57, was arrested on suspicion of murder on Sunday evening and remains in custody.
The body has yet to be identified but officers remain keen to trace a woman, believed to be Mr Jokubauskas' partner.
She is about 40 years old, slim, with black hair and also from Lithuania.
She had not been seen for "about a week" before the body was discovered, Cambridgeshire Police said.
Officers discovered the torso after other tenants in the shared house reported a "pungent smell" and called police.
A force spokesman said: "Police have still not identified the victim and inquiries continue. Searches also continue to find the missing body parts.
"The murder is being treated as an isolated incident and a dedicated team has been set up to investigate."