Two trains collide at Cambridge railway station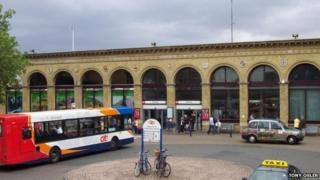 Three passengers were injured when two trains hit each other at Cambridge railway station.
The 09:14 GTR Great Northern service from London Kings Cross hit another train shortly after 10:00 BST.
Twitter user Kevin Taylor said "everyone went flying" and there were "lots of bumps and bruises" on board.
GTR Great Northern said station staff treated three people for minor injuries. A spokeswoman said a "full investigation" would be carried out.