Cambridge's 'last' horse-drawn tram restored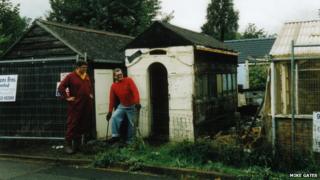 The restoration of East Anglia's "only remaining" horse-drawn tramcar should be completed within three years.
The wooden vehicle was withdrawn from service in Cambridge in 1914 and was being used as a workshop in Ely.
Volunteers from the Ipswich Transport Museum are rebuilding it at a cost of about £59,000.
Mike Abbott, from the museum, said: "It's important that people can get a sense of the importance of public transport before mass car ownership."
Horse-drawn trams ran to Cambridge city centre from the railway station and Newmarket Road between 1880 and 1914, before they were replaced by diesel buses.
"They were sold-off as garden sheds and this one, tramcar number 7, became a cobbler's shed," said Mr Abbott.
"As far as we know, this is the only remaining East Anglian horse tramcar.
"Cambridge is fairly flat, so they could get away with using one horse as the tram had steel wheels on steel rails.
"It shows an era when there was no pollution from public transport, apart from the output of the horses and no rows about lack of car-parking spaces."
The museum has just taken delivery of a new set of wheels for the tram which were built in Leeds.
The restoration needs to be completed in 2018 as that was a condition of securing a £49,0000-grant from the Heritage Lottery Fund.