Amina Agboola murder: Death 'not preventable', review concludes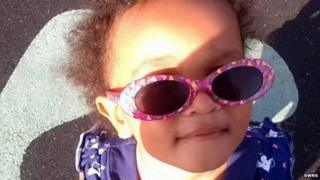 The death of a toddler killed by a violent kick to her stomach by her mother's boyfriend could not have been foreseen, a report has concluded.
Amina Agboola, two, of Yaxley, near Peterborough, was kicked 6ft (1.8m) across a room in November 2013.
Mother Sarah Racqueman's boyfriend Dean Harris was jailed for life for murder.
A serious case review by Cambridgeshire Safeguarding Children Board said there was "no evidence" her death could have been "predicted or prevented".
Amina died in hospital in Peterborough on 21 November 2013.
Paramedics responding to a 999 call made by Harris that morning described Amina as looking "like a rag doll" when they arrived at her home.
Harris, who was 19 at the time, told them she had fallen off the toilet, but later admitted he had kicked Amina in the stomach after becoming frustrated when the child repeatedly soiled herself.
'Benefit of doubt'
An inquest revealed her liver had been split in two by the kick and there was evidence of older injuries on her body including a recently broken arm, bruises to her face and skull, and bite marks on her cheek and forearm.
During the trial it emerged Amina's mother, Ms Racqueman, 29, had been warned by a social worker that Harris had a history of domestic violence and should not be left alone with the child.
However, she said she gave him "the benefit of the doubt", adding: "I believe in second chances."
Harris had admitted manslaughter but was convicted of the child's murder at Cambridge Crown Court in August.
Jailing him for life, the judge ruled Harris must serve a minimum of 17 years.
Ms Racqueman was cleared by a jury in June of causing or allowing her daughter's death.
A serious case review found "no evidence that the child's death could have been either predicted or prevented by the professionals who came into contact with her and her family".
Further, it said: "There was nothing in the mother's boyfriend's past that indicated that he would perpetrate the level of violence that resulted in her death."
Although there were instances where some of the professional bodies involved with the family "could have been more effective in sharing information", there was "no evidence that the tragic outcome could have been anticipated", it said.
"Busy childcare professionals work with many families where there are concerns about the risk posed by a new partner entering the family system and it is very difficult to identify the case where the unexpected will occur.
"Low probability events do occur," the review concluded.