Scalded husband: 'No shame' for male domestic abuse victims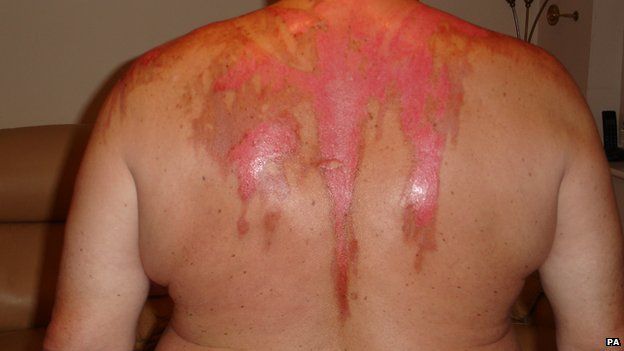 A man was left in "unbearable, searing pain" and scarred for life when his wife poured boiling water over him.
Ken Gregory, 65, from Peterborough, sustained first and second degree burns to 14% of his body in March last year.
He has encouraged male victims of domestic violence to speak out, saying: "Being attacked by a woman is nothing to be ashamed of."
His now ex-wife Teresa Gilbertson, 60, is awaiting sentencing having been convicted of grievous bodily harm.
Mr Gregory met Gilbertson seven years ago after the death of his first wife of 30 years, Maureen.
On the day of the attack Mr Gregory had intended to visit his first wife's grave as it was her birthday, but instead the couple argued and agreed to divorce.
Gilbertson went to make a cup of tea but returned with a jug of boiling water which she poured over his head from behind.
Peterborough Crown Court heard she said "there you go", as she tipped it over her husband.
"It was unbearable, searing pain. I'd never known anything like it," Mr Gregory said.
The attack, he said, was the culmination of escalating verbal abuse. He had also needed hospital treatment a few weeks earlier after Gilbertson threw hot tea over him as he slept.
Mr Gregory said he agreed to speak about the abuse, and show his scars, to address the stigma surrounding male victims of domestic violence.
"As a man who is a bit older and who isn't exactly small, there is a perception that you can't be a victim of domestic violence.
"But it should be the same message that they put out for women - don't be frightened, you don't have to put up with it."
Gilbertson is due to be sentenced on 24 March.
Related Internet Links
The BBC is not responsible for the content of external sites.