Child sex abuse officer Nick Lidstone sentence increased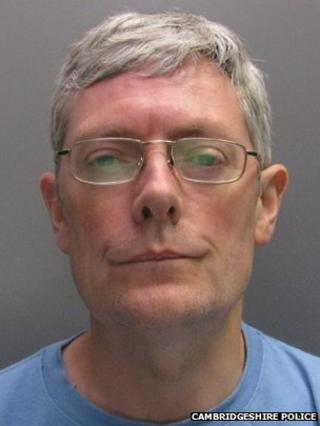 A paedophile police officer jailed for a "horrendous" series of rapes and child sex attacks on a victim has had his sentence increased to 20 years.
Cambridgeshire Police sergeant Nick Lidstone, from Barrington, was jailed for 14-and-a-half years in December after admitting 13 offences.
The Solicitor General had argued the jail term was "not tough enough".
His sentence was increased to 20 years after Court of Appeal judges agreed it had been "unduly lenient".
When Lidstone was initially sentenced last year, Norwich Crown Court heard his victim had suffered years of abuse, culminating in being raped as an adult.
'Public revulsion'
It also emerged he had been arrested eight years earlier for taking "up-skirt" pictures of children.
The 54-year-old had been given a two-year conditional discharge in 2005.
Three Appeal Court judges have now upheld a bid by the Solicitor General, Robert Buckland QC, to increase Lidstone's sentence.
Zoe Johnson QC, for the Solicitor General, argued the jail term was nowhere near tough enough to punish him and meet public revulsion of his crimes.
Kerry Broome, for Lidstone, said he was a "broken individual" who had lost his career and would most likely lose his police pension.
Lady Justice Macur, announcing the decision to increase Lidstone's sentence to 20 years, said: "We are not satisfied that the judge adequately weighed the appropriate aggravating features in the offences.
"This offender's status in society as a serving police officer was a position which he abused."
Lidstone had already been dismissed after 30 years on the force and placed on the sex offenders register for life.