Myles Bradbury: Addenbrooke's paedophile doctor speaks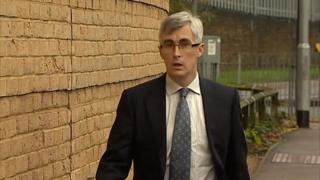 A paedophile doctor who abused boys in his care over a four-year period has broken his silence by speaking to police for the first time.
Myles Bradbury, 41, was jailed for 22 years after admitting abusing 18 boys at Addenbrooke's Hospital, Cambridge, between 2009 and 2013.
He refused to answer questions during the investigation, including answering "no comment" to 93 questions in a row.
But he gave some information during a recent visit by officers, police said.
Before his sentencing in December, the children's cancer specialist from Herringswell in Suffolk, admitted 25 offences, including sexual assault, voyeurism and possessing more than 16,000 indecent images.
'Gross and grotesque'
In court it emerged Bradbury had used a spy pen to take pictures of his victims. It contained 170,425 images of boys.
The sentencing judge told him his offences were a "gross and grotesque breach of trust".
Bradbury had always refused to answer detectives' questions during Cambridgeshire Police's investigation into his crimes.
However, the former doctor has now spoken with officers.
"Police have visited Bradbury on one occasion in an attempt to gain any further information that might help us prevent this happening again," a spokesman said.
'How he did it'
The visit was part of a multi-agency review of how Bradbury had managed to carry out his crimes undetected over a number of years, he added.
"We and other agencies want to stop this happening again. We went to see him to see if he would tell us anything about how he did it."
All the agencies involved in the case were reviewing their roles, he said.
An independent investigation is currently taking place into how the paediatric oncology unit at Addenbrooke's Hospital was run and how Bradbury was able to go undetected.