Cambridge City Council approves AstraZeneca plans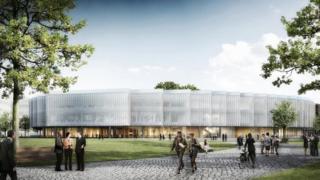 A drug firm's plans to build a £330m global headquarters in Cambridge have been given the go ahead.
AstraZeneca will employ about 2,000 staff at its new building on the Cambridge Biomedical Campus, following approval by Cambridge City Council.
The building, due to be finished by the end of 2016, will house its research and development operation.
More than 1,200 objections had been registered, many of them from animal rights protesters.
The British Union of Anti Vivisectionists says it is concerned about the storage of chemicals on the site and that the centre will not have adequate facilities for the animals.
However, AstraZeneca said the use of laboratory animals was "highly regulated" in the UK and it would comply with all guidance.
A spokeswoman said: "AstraZeneca is committed to the responsible use of animals and their welfare is a top priority at all times.
"Wherever possible we use non-animal methods such as cell culture, computer modelling and high-throughput screening that eliminate the need to use animals early in drug development."
Mene Pangalos, executive vice president of AstraZeneca's innovative medicines and early development, said: "We are very pleased with today's decision by Cambridge City Council.
"Our aim is to create an open, welcoming and vibrant centre that will inspire our teams and partners to push the boundaries of scientific innovation for the benefit of patients."