Contaminated land raises Peterborough road cost by £4.5m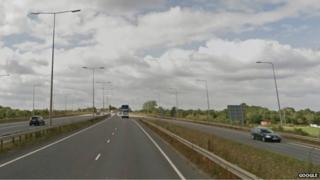 A cash-strapped council must find an extra £4.5m to deal with contamination on a £12m road widening scheme.
Peterborough City Council, facing a £25m budget deficit, has found Fletton Parkway is built on contaminated land.
The A1139 road is a main artery in the city and is being widened from two to three lanes in each direction.
The contamination of the land dates back a number of years and may be associated with brick manufacturing in the city, the council said.
Simon Machen, director of growth and regeneration, said: "The additional costs to complete the Fletton Parkway widening scheme are disappointing, however they are completely unavoidable and could not have been predicted.
"Fletton Parkway is a main route into and through our city and is therefore a key part of the regional road network.
"These issues will not lead to a delay in completing the scheme."
The project is due to finish in the spring this year.