Dying Light: Millions view Cambridge zombie rooftop pursuit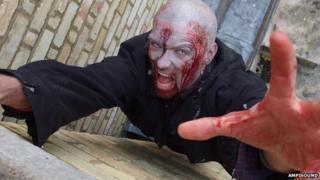 A "zombie pursuit" across the rooftops of Cambridge has become an internet hit after a film-maker was hired to bring a computer game to life.
Film company Ampisound, which works with parkour/free-running enthusiasts and is based in the city, was asked to recreate scenes from Dying Light.
The "real" zombie chase has had more than 2.7 million views on YouTube.
Director Scott Bass, 23, said: "In the streets, we had countless kids coming up to the guys asking for a photo."
The Techland first-person perspective survival game features a parkour-skilled hero who battles with zombies in a "vast and dangerous" world.
Mr Bass said: "I had anticipated the film would do well, because I've done a few virals now.
"What's been really cool is the response from such a wide range of places - along with the gaming and parkour scenes, film blogs and horror fanatics have been talking about it, which is really awesome.
"We only had one minor injury, which was because one of my athletes, Neil, decided eating a sandwich while walking down stairs would be a good idea."
Mr Bass added that when not sustaining injury through sandwich-eating, the film's actors were "extremely talented athletes and highly-trained professionals" in the art of parkour.
He added: "Like any extreme sport, anybody looking to take-up free-running should seek professional guidance and training first."