Charles Darwin's Beagle shipmate sketches online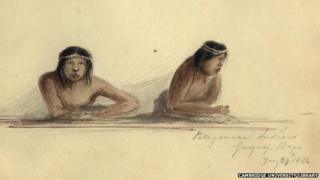 Sketches made during the naturalist Charles Darwin's HMS Beagle voyage to South America have been put online.
The drawings by Darwin's shipmate Conrad Martens, the ship's artist, date from mid-1833 to early 1835.
They have been digitised by Cambridge University Library.
Dr Alison Pearn, from the Darwin Correspondence Project which has published thousands of his letters, said the images "vividly bring to life... the reality of that journey".
Some of the sketches in pencil and watercolours were done while Martens was making the voyage from England to South America, where he joined the crew of the Beagle in November 1833.
The ship's voyage to survey the South American coast and the Galapagos Islands took five years, during which Darwin made a massive collection of fossils and made detailed studies of local plants and wildlife.
His notes and journals were published alongside the captain's account of the trip, but were later released on their own as The Voyage of the Beagle.
"Darwin described the Beagle voyage as the most formative experience of his life, and to see it through the eyes of one of his companions is a very vivid reminder of the reality of that journey," Dr Pearn said.
"Martens sketches are a visual counterpart to Darwin's letters home. Both bring to life a really remarkable adventure in a vast and remote part of the world."
Charles Darwin 1809-1882
Born in Shrewsbury on 12 February 1809
A statue of him stands outside Shrewsbury library - a building that was once his school
He is famed for his theory of evolution by natural selection
On the Origin of Species explained how new species evolved. Darwin argued that tiny variations between individuals could give one or the other a competitive advantage. He said generation after generation those tiny advantages were then passed down, or selected, until the species eventually changed