Libyan soldier denies Cambridge sex attacks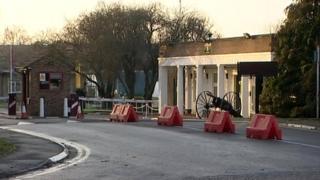 A Libyan soldier has denied sexually assaulting women in Cambridge.
Khaled El Azibi, 18, is accused of two counts of sexually assaulting two women in the city in October. He pleaded not guilty at Cambridge Crown Court.
He was one of about 300 cadets stationed at Bassingbourn Barracks in Cambridgeshire as part of scheme to train Libyan soldiers in the UK.
Ibrahim Naji El Maarfi, 20, and Mohammed Abdalsalam, 27, have already admitted two counts of sexual assault.
The three men had arrived at the barracks in June for basic infantry and junior command training under an agreement reached at the G8 summit in 2013 to support the Libyan government's efforts to improve its security and stability.
Up to 2,000 cadets were expected to be trained at the barracks but more than 300 were sent home early after a number were accused of committing crimes.
Mr El Azibi denied assaulting two women by intentionally touching them on 26 October.
He also denied stealing a bicycle from the barracks on the same day. A date for his trial has not yet been set.
When El Maarfi and Abdalsalam appeared at Cambridge Magistrates' Court, on 28 October, they admitted sexually assaulting women.
El Maarfi pleaded guilty to two counts of sexual assault, one of exposure and one of stealing a bicycle.
Abdalsalam admitted two counts of sexual assault, one public order offence of causing harassment, alarm or distress and one charge of stealing a bicycle.
All three have been remanded in custody.