Cambridge Union debating society celebrates 200 years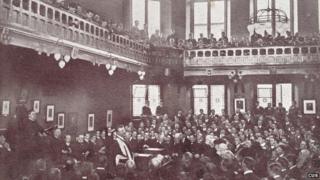 The world famous Cambridge Union debating society is celebrating 200 years of "free speech".
Formed in 1815, and officially known as the Cambridge Union Society, it has hosted world leaders, actors, scientists and political activists.
The origins of the largest of Cambridge University's societies - and the oldest continuously-running debating society in the world - remain "steeped in legend", according to its own website.
However, the story most often reported is that it was formed "after a drunken brawl between several smaller college debating societies".
A number of events are planned throughout this year to mark its 200th anniversary, including a bicentenary debate, a garden party and a ball.
During its 200 years it has played host to prime ministers including Stanley Baldwin, Winston Churchill, Margaret Thatcher and John Major as well as US presidents Theodore Roosevelt and Ronald Reagan.
Civil rights campaigner the Rev Jesse Jackson, Prof Stephen Hawking and the Dalai Lama have shared the same podium as Dame Judi Dench, Sir Ian McKellen, Russell Brand and Robert Downey Jr.
'Unique platform'
Past presidents and officers will be invited back for the bicentenary debate in February, including Baroness Mallalieu and Baroness Hayman, the first two female presidents of the society.
They will join others to debate the motion: "This House is not what it used to be."
Amy Gregg, current president of the Cambridge Union, said: "One of the greatest things about the union society is how unique a platform it is.
"Many organisations host speakers and hold debates, but very few have as unique and diverse an audience as the Cambridge student population.
"The variety of questions and points made from the floor of the debating chamber never fails to amaze me."
Alessandro Forzani, chair of the committee organising the bicentenary, said the celebrations had taken about 18 months to put together.
"The union has a history of marking its milestones. The 150th anniversary was marked with a similar sort of event.
"Unfortunately the centenary wasn't marked at all because that was during the First World War," he said.
Membership is open to all students at the university as well as those at Anglia Ruskin University in the city.
Cambridge residents can also apply to join, for a fee.